See the face behind Flossin Mauwano fame
The man behind the infamous 'Flossin Mauwano' graffiti finally reveals is face via Facebook. If you have been through the Mombasa road highway, you are bound to have seen the name 'Flossin Mauwano' once or twice or maybe three times or anywhere within the city of Nairobi.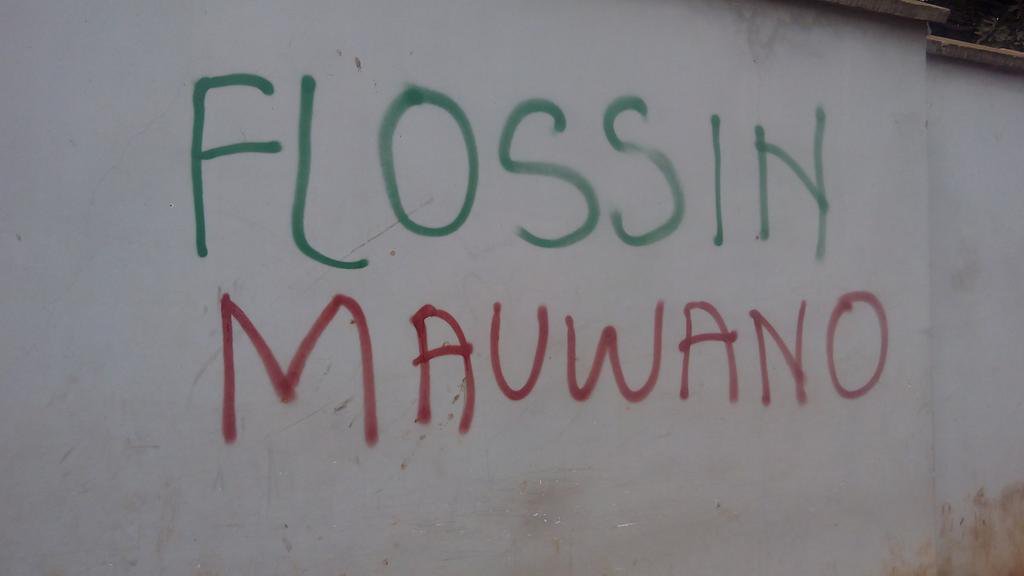 Everybody has been asking who is the man and/or woman behind the 'Flossin Mauwano' graffiti for a long time and today, Biggest Kaka gets to finally reveal his face according to his official Facebook page called Flossin Mauwano(Ma DVD).
check out the photo of the arguably faceless famous person in the city of Nairobi.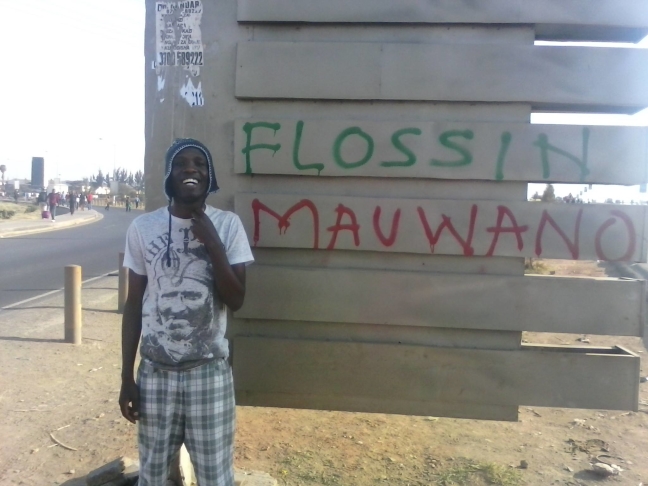 Lupita Nyong'o the African Queen
Lupita Nyong'o is an international filmmaker and actress known for her Academy Award-winning role as Patsey in '12 Years a Slave' and as Nakia in 'Black Panther.'
She was born in 1983 in Mexico City, Mexico. Her parents, Dorothy and Peter Anyang' Nyong'o, were in political exile at the time of her birth, but were able to return to their homeland of Kenya during their daughter's childhood. Her father later became part of the country's senate while her mother, who worked in family planning, took a leadership position with the Africa Cancer Foundation.
Lupita Nyong'o started acting as a teen in Kenya and went on to work behind the scenes of the film The Constant Gardener. She directed and produced the albinism documentary In My Genes and starred in the TV series Shuga. Nyong'o went on to earn acclaim for her role as Patsey in 12 Years a Slave (2013), for which she won the 2014 Academy Award for Best Supporting Actress. The following year, she starred in Star Wars: The Force Awakens and the Off-Broadway play Eclipsed. The actress also featured prominently in the box office-shattering superhero flick Black Panther (2018).
Having taken to drama and obtaining the lead role in a production of Romeo and Juliet, Nyong'o also returned to Mexico during her teens to learn Spanish. She went to college in the United States, studying at Hampshire College in Amherst, Massachusetts, and earning her degree in film in 2003. Upon her return to Kenya during school summer vacation, Nyong'o discovered that filming for the drama The Constant Gardener was happening in her area. She joined the set as a production assistant and met Ralph Fiennes, who told her to become an actor only if it was something she couldn't imagine doing without.
Nyong'o returned to the States and, pursuing her interest in acting, earned a master's degree from the Yale School of Drama in 2012, having performed in works like The Winter's Tale with the school's Repertory Theatre.
Weeks before graduating she found out that she had landed a part in director Steve McQueen's drama 12 Years a Slave. The Brad Pitt-produced film is based on the 19th century narrative written by Solomon Northup (played by Chiwetel Ejiofor), a Northern-based free man who was kidnapped and sold into slavery in the South. Nyong'o played the role of Patsey, an enslaved young woman who befriends Northup while being horrifically abused by plantation master Edwin Epps and his wife, portrayed by Michael Fassbender and Sarah Paulson. For her performance in the film, Nyong'o earned a slew of award nominations, before taking home the 2014 Academy Award for Best Supporting Actress.
Tembea Kenya: Destinations To Visit In Kenya
Kenya has a lot of interesting places to visit. Just that most of us are too reluctant to just go out there and see how beautiful our country is. If we decided to do a poll today I'm sure less than 50percent of Kenyans have even gone to Nairobi National park. Most of us just went to a park during a school trip but after that we've never bothered to go there to actually enjoy it and appreciate how lovely some of these places are. Well, for those are looking for new exciting and interesting destinations to visit, here are the most interesting places you can visit in Kenya.
Mahali mzuri in Maasai Mara
This is a tented luxury camp found in Maasai mara. If you want to enjoy yourself at the Mara, you have to choose a great accommodation facility and trust Mahali Mzuri is that place. The camp belongs to Richard Branson and is situated at the Olare Motorogi conservancy. If you book your accommodation at the right time, you are guaranteed to witness the great migration. If that is not interesting I don't know what is. The camp has great facilities and has a valley for a backdrop. It has been voted favorite safari camp at the Conde' Nast traveler Middle East readers choices for two years straight. The prices are as mind blowing as the place is.
Rolf's place
For those who do not want to travel far out of Nairobi but want that amazing experience, Rolf's place is the place to go. It is a hotel located in the south East border of the Nairobi National park, that is in Rongai. The hotel is built like a medieval fortress on a cliff facing the national park. A suspension bridge that is slightly rickety leads to the mansion. If you are afraid of heights this will be a challenge for you. The view from Rolf's place is out of this world. If you do not want to take drives in the park and just want to enjoy a good atmosphere and a breathtaking view you will definitely fall in love with this place.
Giraffe manor
It is located in langata which is quite close to the CBD. This place is mostly known for being a posh area where tourist come to visit. That is because you can have your breakfast with the giraffes. That´s interesting right? You better have that in your bucketlist. They have really posh rooms with the best service and one of their family suites is named after Karen Blixen. It literally feels like you are in the movie out of Africa.
Ol lentille
Ol lentille is considered one of the most exclusive safari lodges and is a good holiday destination. It is located in Laikipia. If you are looking forward to having an adventure or just relaxing, Ol lentille is a good place to do just that. It harbours elephants, wild dogs and several other endangered species in the sanctuary. There are also activities like yoga, quadbiking,mountainbiking and my favorite of all, night game drives. There is also walking safaris and camel riding. The place is just a center of adventure!
Lamu
Lamu island is just beautiful. It is like a book filled with stories since it has alot of history. The tropic island is a place of endless beaches and rolling dunes. Lamu old town is the main attraction there. The locals are very friendly and the town just beams with culture and customs. Getting around Lamu does not need cars because the streets are narrow. Dhow safaris can take you around to discover hidden islands like Pate, Manda, Kiwayu and Siyu.
Elsa`s kopje
This luxurious safari lodge is named after Elsa the lioness and her grave is very near the lodge. Elsas kopje is located in the Meru national park which is known to be one of the biggest homes of Elephants. There are also more animals to be seen in the park and one can actually go for game drives. The lodge is situated at a very strategic place where you get a captivating view of the park. It is also affordable and a good and very interesting destination especially for a honeymoon.
Ngare ndare forest
Located in Nanyuki, the Ngare Ndare forest has the most beautiful waterfalls in the country. The blue pools at the bottom of the fall are just breathtaking. It is home to very many 200 year old trees and is booming with animal life and a rich variety of birds. The forest is a very important corridor that connects lewa wildlife consevatory to  Mount Kenya. It also has a bridge that hangs across the forest. Again, if you are afraid of heights you might want to take a rain check though you would be missing out on alot.
Sieku glamping
First of all glamping is glamorous camping. Sieku is a glamorous camping ground so for those of us who love camping, this is the place. It is located on the south east corner of laikipia county. They have the most breathtaking sundowners. Sieku glamping makes camping easy since they improvise and modify everything to make a classy statement. They are also the pioneers of glamping in Kenya. Activities to take part in while there include, mountain biking, game viewing and the best picnics ever.
Desert Rose lodge
The lodge is located south of lake turkana and overlooks the plains of northern kenya. It is situated on the slopes of Mount Nyiru which has a micro-climate of its own. The lodge is made entirely of local materials. Activities to be do at the lodge include; bird viewing, local wildlife walks, visits to working villages, rock climbing , para-gliding and helicopter rides. The overhead view from the lodge is perfect!
Arijiju
This place has been a marvel to so many of us because of the hefty bills one has to pay just to stay there. However, if you can afford staying here, you will have the time of your life. It has the most beautiful scenery and its very comfortable too. It is a private home in the Kenyan highlands and has truly wild luxuries. There is horse riding, quad bike safaris and helicopter flips. Also there´s the big five game drives.it has been featured in the forbes magazine. Arijiju has to be the most interesting destination to visit especially for the experience.
The new Nairobi National park is a game changer
You will soon enjoy five-star catering at the Nairobi National Park, according to a master plan in our possession. And, after an evening game drive, there will be nothing to regret – wine, whisky and beer aplenty served at an ecolodge right inside the park.
The ambiance of the high-end ecolodge will for a long time be the talk of the visitors to Nairobi, the only city in the world with a national park hardly 10 kilometres from the central business district.
These and a conference hall with a gym are but a few highlights of the facilities to be erected in the 117 square kilometre park.
The Kenya Wildlife Service justifies the planned developments, citing poor infrastructure and lack of recreational facilities "unworthy of the stature" of visitors thronging the park annually. But not everybody, in particular conservationists and nature lovers, is as excited by all the proposed developments.
Friends of Nairobi National Park (FoNNaP) says many of infrastructure proposals will be aesthetically unappealing. While FoNNaP has no objection to 90 of the 122 objectives of the draft master plan, it warns against special-use zones in the park.
The East Africa Wildlife Society maintains that the plan must be subjected to public scrutiny as the park's management is a concern of everybody. The park has had no management plan in the past 10 years, the previous one having expired in 2010.
There are more than 100 mammal species and over a dozen different reptiles in the facility. Among the carnivores (leopards, cheetahs, hyenas, etc) are more than 45 lions. Herbivores like deer, gazelles and giraffes roam the park. Mbagathi River and dams are the habitats of hippopotamuses and crocodiles.
The Nairobi National Park experience master plan says there will be an amphitheater, museum, ivory tower and restrooms when the reorganization of the facility is completed.